Energy Star Rated TPO Roofing - Texas Flat Roof Company
Energy Star Rated TPO Roofing
Most of the major manufacturers produce Energy Star Rated TPO roofing membranes which must, by definition, have an Initial Solar Reflectance value greater than or equal to 0.65. The benefits to having an Energy Star Rated roofing system are multi-fold:
Upgrading an existing roof to an Energy Star rated EPA "cool roof" qualifies owners for various Energy Tax credits.

Savings on cooling bills will accrue immediately.

HVAC systems undergo less stress and enjoy extended service life.

Energy Star Rated TPO roofing

reduces carbon emissions and helps lessen the heat island effect.
Lone Star Flat Roof Construction, LLC. is factory certified to install Energy Star Rated TPO roofing and other EPA cool roofs. We will help you obtain the maximum tax credit rebate given your unique situation. We save you time, we save you money.
In addition to TPO, we also offer other EPA approved cool roofing systems including:
Urethane and acrylic based roof coating systems modified with ceramic granule "microspheres".

Energy efficient single ply roofing.

White

PVC roofing

membranes

(Polyvinyl chloride).

Aluminum backed S.B.S. or

A.P.P Modif

ied Bitumen Torch

Down

Rubber roofing

.

Thermal

ly Reflective Roof Coatings.

Reflective

Metal roof coating

s

.

Spray F

oam

R

oof

ing repair

.

Emissive

Flat roof coatings.

Aluminum

flake thermal

roof coatings.

Call for information about other

Cool Roofing Systems
Trust the Flat Roof Specialists
Request A Free Roofing Estimate
Lone Star Roofing Texas Flat Roof Company
Austin, Texas
512-920-DRIP
San Antonio, Texas
210-970-ROOF
Dallas, Texas
972-441-ROOF
Houston, Texas
281-595-ROOF
Ever heard of Green Roofing Systems? While initially describing energy efficient roofing in general, green roofing has come more and more to refer to roofing systems comprised of specialized waterproofing layers covered with actual vegetation. Depending on the system, there may also be layers to facilitate roots, drainage and irrigation. You may have seen this type of roofing in action over restaurants such as Carrabba's or over high end urban condominiums.
Like with all expensive decisions, there are many factors to weigh when considering installing a vegetative roof. The benefits are obvious- superior insulation, natural rainwater retention and all around environmental friendliness. The disadvantages really revolve around two issues: cost and complication.
Vegetative green roofing systems can cost from $15 to $25 per square foot to install. Maintenance can also be an issue. There is no easy way to find a leak underneath a tree.
Federal Energy Tax Credit
There are Federal Energy Tax Credits immediately available for Commercial Properties under provisions of the Federal Energy Policy Act of 2005. The act allows you to deduct from the cost of installing an energy efficiency upgrade in the same year the upgrade is completed, rather than over a long period of time. Here are some of the highlights:
Applies to Commercial Buildings including tenant owned and rental properties.
Applies to all "building e

nvelope

" upgrades including the roof, walls,

lighting

systems and air conditioning systems.

Valid for improvements installed from 2006 through 2013 with extension likely.

Credit is capped

at

the

lesser of investment cost or:

$1.80/

sq.ft

.

if

the whole b

uilding

efficiency improves by 50% or better.

$0.60/

sq.ft

.

for individual Energy Star rated s

ystems

such as roofing, lighting or HVAC
This can add up to quite a bit in savings. For a 400,000 square foot building, an owner who performed upgrades resulting in total building envelope energy efficiency improvement of 50% would enjoy a tax deduction of $720,000.00 in addition to the immediate savings in energy bills. He could claim a $240,000.00 rebate for the roofing system alone.
There are many factors at work here and the law can get a bit technical. Let one of our experts help guide you to make the very best decision.
We are commercial roofing contractors in Dallas certified to install Energy Star Rated TPO Roofing, Thermally reflective roof coatings and EPA rated Cool Roofs. We will help you claim your Federal energy tax credit.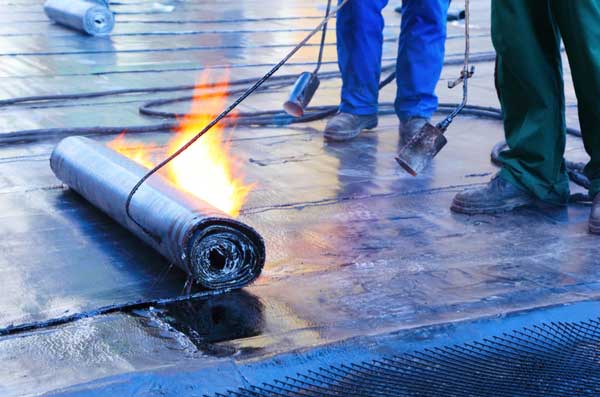 Regular, proactive roof maintenance from Chicago Flat Roof Company can greatly reduce the chances that unnoticed damage is occurring to your TPO roofing system. As we stated, because of the nature of the panels and their dependence on solid welds at the seams, even a crack in a problem area can lead to moisture entering and damaging the structure without any outward signs of danger. Left unchecked, this moisture will eventually cause enough damage to necessitate the installation of a new roof or re-roofing application. Don't take chances with your TPO roofing. Give the expert technicians at Lone Star Flat Roof Company the chance to keep you and your structure safe and secure for years to come. Call (512) 920-3747 today to schedule your free inspection.
Trust the Flat Roof Specialists
Request A Free Roofing Estimate
Why Choose Lone Star Roofing The Flat Roofing Specialists?
If you're in need of a reputable, experienced and locally-owned roofing contractor, there's only one clear choice – Lone Star Roofing. Our expert technicians will deliver the finest finished product without bloated costs or hidden fees. Our professional quote will be the price you pay, and our inspection process – which is free of charge – will ensure all the work needed is identified before anything is done.
More than 15 years of experience in Texas
Family-Owned & Operated Local Roofing Contractor
Industry-Leading Products & Materials from the Biggest Names in Roofing.
Ongoing Training & Continuing Education Courses for Team
Fully Licensed, Bonded & Insured Throughout the State of Texas
Thousands of Satisfied Texas Roofing Customers
Much, Much More
Your property, whether it's a home or business, stands as the single biggest investment for most people. Protecting it and using only the best service professionals and industry-leading products is integral to the long-term success of your roofing system. Our expert technicians are cross-trained in a wide range of disciplines to ensure they deliver the finest work and friendliest customer service. Each has training in the following:
Roof Inspections
Roof Construction
Roof Repairs
Roof Maintenance
24/7 Emergency Response
We have many years of experience with all types of roofing systems and carry the finest products backed by the industry's best warranties. Our technicians are specially-trained to install and repair our entire range of products.
Roofing doesn't have to be difficult – call Lone Star Roofing plus, it's 100% guaranteed.
Experienced Crews & Affordable Rates.
Licensed & Insured for Your Peace of Mind.
Free Inspections & Estimates for Every Project.
Trust the Flat Roof Specialists
Request A Free Roofing Estimate