TPO Roofing Manufacturers - Texas Flat Roof Company
TPO Roofing Manufacturers
TPO roofing manufacturers work to continually improve their product. There is a delicate balance between UV stabilizers, flexible plasticizers and other components and each manufacturer keeps their formula a proprietary secret. The TPO membranes of today are miles ahead of the membranes produced 20 years ago.
In this article we discuss the differences in the various TPO roofing manufacturer's products, policies and commitment.
Carlisle TPO roofing systems
Carlisle TPO roofing systems are unique in that Carlisle-Syntec specializes in producing single ply roofing systems exclusively. They only produce TPO, EPDM and PVC single ply membranes and they seek to produce them better than anyone else. WE feel that the Carlisle FleeceBACK system is the best single ply option available. Others disagree. You'll find such inconsistency throughout commercial roofing circles, primarily because everyone has an incentive to sell their pet product.
At Lone Star we don't really care. We are certified by multiple manufacturers to install every major roofing system. We factor the same profit into every estimate regardless of the brand chosen by the Owner. As such, we call it like we see it. Ultimately, we want to install the system that will perform the best and cost us less in call backs and warranty expenses. That ends up being FleeceBACK.
For honest, expert evaluation of your unique conditions complete with value based roof repair solutions, call Lone Star. We will provide multiple options based on your preferences and discuss with you frankly what to expect from each one.
Trust the Flat Roof Specialists
Request A Free Roofing Estimate
Lone Star Roofing Texas Flat Roof Company
Austin, Texas
512-920-DRIP
San Antonio, Texas
210-970-ROOF
Dallas, Texas
972-441-ROOF
Houston, Texas
281-595-ROOF
Firestone TPO Roofing Systems
Firestone TPO roofing systems have long been the standard because, quite frankly, Firestone is a very large company. They produce a complete line of roofing products from modified bitumen to hot asphalt built up roofing systems to single plies, TPO, PVC, EPDM and multiple types of commercial roof coating systems. Firestone does it all. Browse this section for more complete details about Firestone TPO Roofing Systems.
GenFlex TPO Roofing Systems
GenFlex is actually a subsidiary of Firestone but focuses exclusively on single ply systems much like Carlisle. They even have their own high quality Fleece Backed option available Browse this section for detailed information on GenFlex materials, systems and warranties.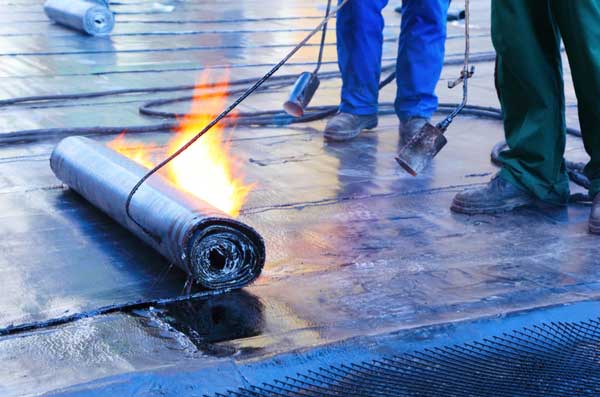 Why Choose Lone Star Roofing The Flat Roofing Specialists?
If you're in need of a reputable, experienced and locally-owned roofing contractor, there's only one clear choice – Lone Star Roofing. Our expert technicians will deliver the finest finished product without bloated costs or hidden fees. Our professional quote will be the price you pay, and our inspection process – which is free of charge – will ensure all the work needed is identified before anything is done.
More than 15 years of experience in Texas
Family-Owned & Operated Local Roofing Contractor
Industry-Leading Products & Materials from the Biggest Names in Roofing.
Ongoing Training & Continuing Education Courses for Team
Fully Licensed, Bonded & Insured Throughout the State of Texas
Thousands of Satisfied Texas Roofing Customers
Much, Much More
Your property, whether it's a home or business, stands as the single biggest investment for most people. Protecting it and using only the best service professionals and industry-leading products is integral to the long-term success of your roofing system. Our expert technicians are cross-trained in a wide range of disciplines to ensure they deliver the finest work and friendliest customer service. Each has training in the following:
Roof Inspections
Roof Construction
Roof Repairs
Roof Maintenance
24/7 Emergency Response
We have many years of experience with all types of roofing systems and carry the finest products backed by the industry's best warranties. Our technicians are specially-trained to install and repair our entire range of products.
Roofing doesn't have to be difficult – call Lone Star Roofing plus, it's 100% guaranteed.
Experienced Crews & Affordable Rates.
Licensed & Insured for Your Peace of Mind.
Free Inspections & Estimates for Every Project.
Trust the Flat Roof Specialists
Request A Free Roofing Estimate